Patients considering plastic surgery are usually savvy and informed consumers. They undoubtedly research their desired procedures and doctors online. That's why quality SEO, or search engine optimization, is crucial for your practice to get in front of prospective patients.
Competition between plastic surgeons for patients has always been fierce, but as people begin venturing outside of their homes again, the American Society of Plastic Surgeons anticipates a surge in demand for procedures.
Your practice needs to strategically insert itself at the top of search engine results pages in order to capture new clients. Effective SEO is an integrated process that requires a deep understanding of the market, how your desired patients search for procedures, and the subtleties of optimizing a website.
Driving traffic to your site and converting those clicks into new patient consultations is your best chance to stand out in today's market. A compelling site filled with engaging content and a comprehensive marketing strategy will maximize your visibility.
What is Plastic

Surgery SEO?
SEO is the art and science of optimizing your site using a clear strategy that simultaneously informs each aspect of how you market your practice. The way consumers use and interact with the internet is constantly evolving. You need to be adaptable to succeed.
Effective practices research their potential clients and tailor their SEO strategy to make their site the ideal landing place for patients' searches. This entails engineering the site based on procedures prospective clients want, understanding what they search for, and adapting the entire strategy so search engines value the content you offer.
SEO entails far more than flooding your site with a few key terms. Search engines like Google judge your site on its ability to answer search terms and provide quality user experience, visual appeal, and a lot of quality content.
It's not enough to just have users click on your site. The longer you can hold a patient's attention with great content, the more important you appear to search engines. Beyond that, higher engagement is more likely to turn a click into a consultation.
Why is Plastic Surgery SEO Important?
Your prospective patients research desired procedures and educate themselves about the intricacies of plastic surgery using the internet. They are already online and looking for a provider.
By publishing informative blogs and offering insightful answers to the wide array of questions prospective patients have, your site becomes a valuable landing space for individuals trying to educate themselves.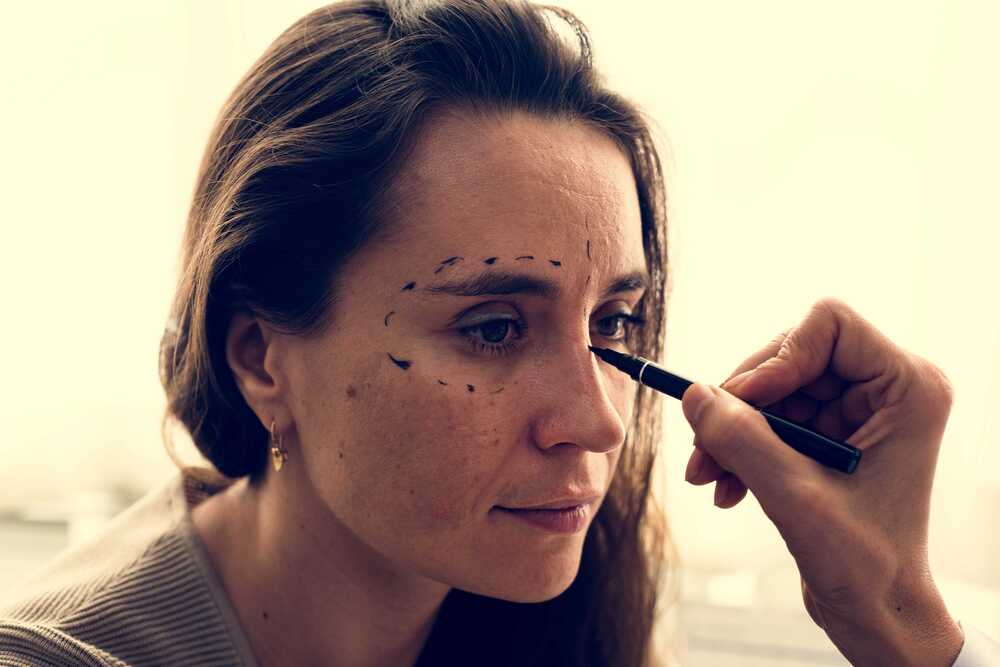 This is an opportunity for your medical expertise to shine through and for you to begin gaining the confidence of a prospective patient. Your content should transcend marketing and make you a trusted source of information for patients.
Your competition is undoubtedly leveraging the internet to secure new patients. Without embracing SEO, you will fall below the top of the search engine rankings, which is contains the sites patients are most likely to visit.
Effectively using SEO will make you an ideal destination for prospective patients regardless of where they are in their search process. SEO allows you to show your expertise and value to clients, raising the overall profile of your practice.
Want a no Obligation SEO Review of Your Website?
Top Plastic Surgeon

SEO Strategies
Professional research into what procedures people are searching for is critical. Without insights into your market, you may end up courting clientele that does not exist or focusing your efforts on a segment of the market destined to offer no return on your investment.
Zeroing in on keywords is not necessarily intuitive due to nuances in the ways different types of prospective patients search. Generation, locality, and awareness all inform the ways people use search engines.
Generally speaking, your prospective clients will reside within your geographic area. Therefore, your keyword research must focus on that area and integrate your locality throughout your site. Gearing your strategy toward those seeking procedures in your area maximizes your investment in high-quality SEO.
Ensuring your practice's name, address and phone number are widely published enhances your search ranking. You need to work with a firm to make sure your GoogleMaps information is accurate, that you're listed on the website of local business databases, and that you're appearing accurately on apps like Yelp and Facebook.
"More is more" when it comes to citations. You need to scour the internet to make sure you're represented everywhere you possibly can be.
Compelling blog posts are essential for securing your spot at the top of search engine rankings. This is especially important with plastic surgery because patients are eager to educate themselves.
Your blogs need to simultaneously feature engaging content that will satisfy searchers while also exercising subtle tactics to show search engines that you're a desirable landing spot.
Quality articles geared toward commonly-searched questions can ultimately secure links to your content from other sites. This will accelerate your ascension through the rankings.
Search engines take into account each site's design, number of links, and overall appeal. Naturally integrating keywords throughout each page is essential. You must account for both desktop and mobile design. Fast loading speeds also drive your ranking.
Beyond the SEO value of great web design, today's patients are adept at researching potential services online. Your site needs an excellent design to justify its high ranking in the eyes of clients.
An unappealing site with a poor user experience will give patients the wrong impression of your practice. A modern and intuitive website design that prioritizes accessibility helps convey that your practice is contemporary and knowledgeable about current trends.
The ascetic world and social media are linked. Your presence on platforms like Instagram and Facebook is vital to boosting your practice's visibility. In the eyes of many patients, especially Millennials and Gen-Z patients, a vibrant social media presence is essential.
You need to be knowledgeable about the ever-changing social media landscape to maintain your practice's reputation in the eyes of searchers.
Video content's prominence is rising. YouTube is a valuable tool to put yourself and your practice in front of patients before they've even booked an appointment.
Benefits of SEO

for Plastic Surgeons
Increase Your Online Visibility
A dynamic online presence is essential to your healthcare practice's legitimacy in the eyes of today's consumers. Fluency with the nuances of SEO guarantees your practice will be seen as a desirable destination for patients.
During searches, few people make it past the top three results presented to them and virtually no one proceeds beyond the first page of results. Your business listing needs to be visible as high up the search engine results webpage as possible.
Each spot you rise in the organic search rankings is one spot lower your competition falls. People are going to visit sites sequentially so, the higher you are in the rankings, the higher the chance their search ends with you.
Generating referrals through word of mouth and traditional marketing is a thing of the past. Drawing in new patients with effective SEO ensures a reliable stream of consultations.
New clients are more likely to engage with your practice on social media and drive traffic to your site. This in turn bolsters your value in the eyes of search engines.
Boost Website Conversions
Optimizing your site will catapult you up the rankings, but compelling content is vital to capturing potential patients' attention and turning visitors into consultations. A site that utilizes informative blogs, compelling videos and an impressive design will elevate your online reputation.
Creating a Comprehensive

Digital Marketing Strategy
Your marketing must be unified and consistent in order for it to be effective. You must begin with a solid understanding of your market and desirable search terms. Each phase of your marketing strategy must then be geared toward reaching those clients by answering their questions.
Compelling blogs will drive others to link to your plastic surgery website. Engaging social media that responds to new technology will place you at the top of patients' lists. You must have a site that appeals to both search engines' algorithms and real people.
Unifying your digital marketing strategy with great web design, exploiting the idiosyncrasies of SEO rankings, and accurately representing your cosmetic surgery practice will result in a consistent stream of new patients.
Using a Plastic Surgery SEO Agency
SEO campaigns are fundamental to capturing new patients. Your path to success is best accomplished by outsourcing the project to a firm that specializes in plastic surgery SEO. Search engines are constantly updating their algorithms and user behavior is constantly evolving, and staying abreast of both can feel impossible for one person.
SEO agencies position you at the leading edge of trends. Maintaining an integrated marketing strategy while accounting for emerging technologies requires an SEO company.
Managing your practice's internet marketing alone can set you back because SEO is a multifaceted discipline and SEO services must be unified across several fronts. Not only could you waste your marketing dollars, but your competitors could steal search engine rankings and potential patients. That's why hiring some SEO experts to streamline your marketing campaigns is key.
Search engines crave consistent content that's fresh and engaging. Partnering with a marketing agency like NetLocal can ensure a steady flow of blog posts, link building, PPC, backlinks, page optimization, social media content, linking, and other online marketing services that can help you establish and maintain a high local search ranking.
Establishing an effective SEO strategy is a slow but worthwhile process. Each step builds upon the last and must be guided by a clear understanding of the dynamics of your industry and local market.
While optimizing your site requires both SEO knowledge and creativity, there are established methods to drive your plastic surgery practice up the Bing and Google search rankings. In the end, mastering SEO is the best way to outshine your competition.
Learn more about our Local SEO Services?