Google My Business Optimization Service | NetLocal
Netlocal has been partnering with local small businesses to help them get found on the web by people searching for their services for over ten years.
Google is so ubiquitous that it has become a verb. More importantly, for local businesses it's the primary way customers search for goods and services near them. Google's goal is to deliver its users the highest quality information from the best websites.
Your Google My Business listing is your first impression with the majority of your prospective customers. Omitting it as part of your digital marketing strategy or having a low-quality page can prevent you from reaching customers or turn them away once they finally interact with your site.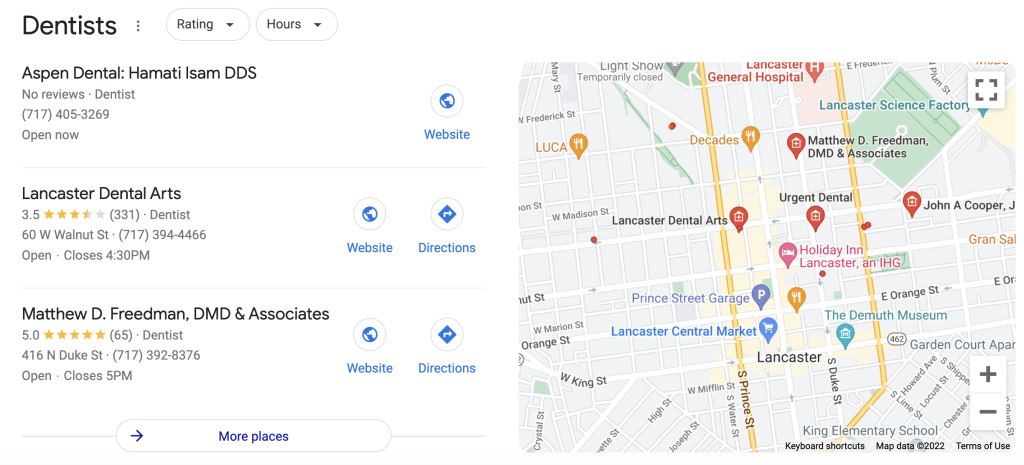 An optimized GMB profile requires insight into how customers search, knowledge about Google's evaluation criteria, and a multi-faceted strategy that leverages your website to climb the rankings. A quality profile will magnify your online presence and put you in front of prospective customers before your competition can reach them.
What is

Google My Business Optimization?
Every business has a Google My Business profile page that lists its name, contact information, a summary of its offerings or services, and its customer reviews.
Google pulls data from the web to make the best approximation of each business's hours, industry, and location. They then use those snapshots to create brief summaries of businesses that users see at the top of local search results pages and within Google Maps.
Google My Business (GMB) is a free tool that allows you to control the information on your profile. To use it, you just simply claim your business from Google, verify your ownership, and then craft the most appealing and engaging profile possible to drive potential new customers to your site.
Optimizing your GMB listing involves implementing the same marketing strategy across your Google profile, website, and social media pages. Presenting a consistent brand across the internet is key to your reputation and online visibility.
If you optimize your GMB listing, you can also verify all of your contact information and business information across the web. That way, you can ensure that your business pops up on all relevant search results pages.
google my business

optimization 2022
Your business' success or failure on the web is tied to your search engine ranking. Few searchers look past the first few results Google presents and virtually no one goes beyond the first page. Google ranks sites using a broad set of criteria to assess their relevance, design, and the amount of quality information they offer.
An optimized GMB listing affirms your business's identity. Once you claim and optimize your account, you tell Google, and by extension each searcher, that you're legitimate and reputable. Google wants to send its customers to verified, reliable businesses.
A well-constructed and well-managed GMB listing tells Google your business is active and up-to-date. Proper keyword use in your profile and detailed descriptions of all of the products and services you offer can propel you up Google's rankings.
Today, search engine optimization, or SEO, is driven by location services. Google returns searches with map-based results near each user's location. Your GMB listing pushes relevant data to all of Google's apps, like Search and Maps. An optimized GMB listing will improve your search ranking on both desktop and mobile.
How Do We Optimize a Listing on Google?
Optimizing your GMB listing involves claiming and verifying your business with Google. Then, you must provide additional information about your business. Accurately listing your phone number, hours, and industry is critical for maintaining your reputability.
You then need to conduct keyword research on your industry and locality. Naturally weaving high-quality keywords throughout your business description and GMB posts will help you attract more clients.
Tailoring your GMB to the nuances of your market and prospective customers' needs will help you climb the rankings. Google's results are oriented around each user's location, so you must focus on promoting in-demand services or products specific to your local clientele.
You'll also need to upload eye-catching photos that draw searchers to your profile. Stock images from the internet, low-quality photographs, or irrelevant photos won't help optimize your GMB listing and may even be rejected by Google.
It's advisable to take the photos yourself using quality equipment. The images should highlight your business location, employees, industry, products or services, and company history. Strive for authenticity over production value. Overly staged photos can make searchers distrustful because your business will seem overly curated.
Google will publish your business's rating from its customer reviews as well as ones they aggregate from social media platforms. Those reviews are prominent and can entice or repel searchers. Work to cultivate reviews from satisfied customers that reflect positively upon your business.
You must also monitor reviews that are posted and respond to negative ones to maintain your brand's image.
Linking your company's Facebook, Twitter, Instagram, and other social media accounts to your GMB listing is an excellent way to drive traffic to your site. Outbound links to social media sites from your GMB listing can bolster your authenticity and announce your market presence.
Benefits of Optimizing Your Listing on Google
An optimized GMB will enhance your metrics on Google's core vitals, which they use to rank sites. You need to appear prominently in searches to capture clients before your competitors can. Fortunately, when you climb the rankings you push the competition down them, decreasing their odds of even being considered by prospective customers.
Additionally, an optimized GMB listing will net you better placement within Google's apps, which play key roles within each searcher's mobile experience. An attention-grabbing GMB profile can capture a prospect, feed them directly to your site, and push your contact information to their phone or email.
Collecting clicks and increasing engagement with your GMB listing will also drive users to your site. The longer they spend with you, the more likely they are to book a service or make a purchase. This means they're less likely to visit (let alone choose) a competitor.
Want a no Obligation SEO Review of Your Website?
What is a

GMB Optimization Service?
A GMB optimization service is a company that can perform an assessment of your Google My Business profile, an analysis of your competitors' strategies, keyword research, and an implementation of a unified strategy to drive your site to the top of Google's rankings.
Why Choose NetLocal for Your Google Local Optimization?
Optimizing your GMB requires an understanding of what makes a quality profile, insight into the way people search the internet, and knowledge of each facet of your marketing strategy.
NetLocal researches the specifics of our clients' local markets and tailors detailed GMB strategies according to their target markets. We combine our knowledge about Google's SEO standards with our clients' industry expertise to help them capture and convert new prospects. Our SEO services consistently net new conversions for all of our business owners.
When we work with you, we make our SEO strategies clear by establishing measurable goals and sharing the metrics we collect to keep you up to date on our progress.
Some aspects of SEO are straightforward, while others seem counterintuitive, which can make optimizing your GMB page and your site confusing. But when you work with NetLocal, we guarantee that you'll not only be able to understand how we're optimizing your web presence, but why we take certain steps to do so.
What's Included

in Our Local Listing Optimization Services
The services NetLocal's local SEO packages can vary based on your goals and the number of locations you'd like to optimize. But in general, local listing optimization includes services such as:
Schedule a meeting with the owner for an analysis of the search volume for your business and what it will realistically take to displace your competition in google organic search.
About Our

Local SEO Services
John DiBella
Owner/Founder
Zubair U din
Technical SEO Specialist
Jake Peters
Content Manager/Local SEO
CONTACT US TO START THE CONVERSATION
What's Included in

Our Local Listing Optimization Services?
The contents of NetLocal's local SEO packages can vary based on your goals and the number of locations you'd like to optimize. But in general, local listing optimization includes services such as: