Chiropractor SEO | NetLocal Digital Marketing
Netlocal has been partnering with local small businesses to help them get found on the web by people searching for their services for over ten years.
For customers, it has never been easier to find the local businesses that they need and want in their lives. The internet, search engines, and even social media have brought those medical practices closer to them than anyone could've predicted. They can compare prices, opening hours, and credentials in mere moments – but how can you optimize your chiropractic website to attract potential patients? What about page speed and website design?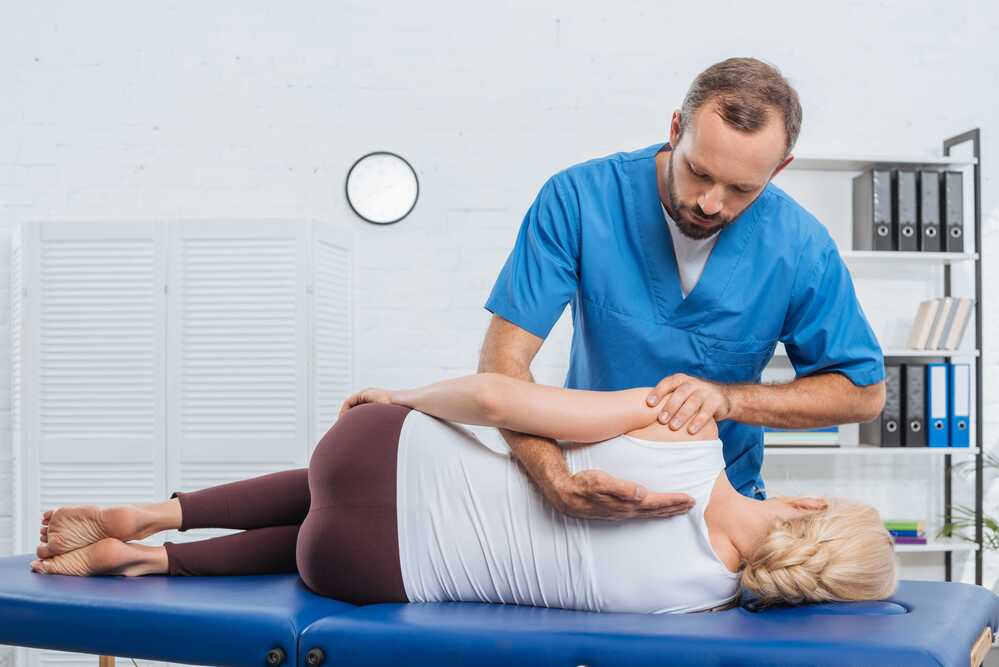 Over 800,000 Searches

for "chiropractor near me"
Five year google search trend as of 2022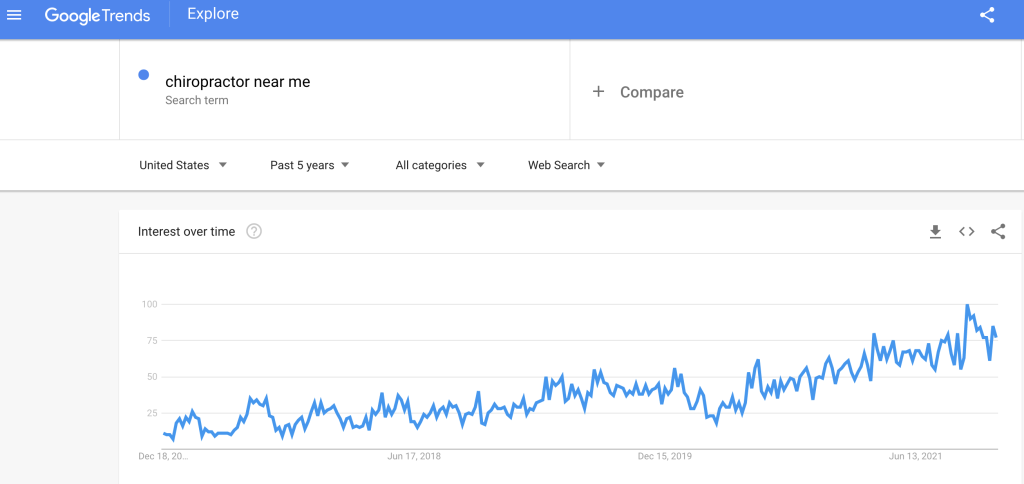 There are over eight hundred thousand local searches every month for "chiropractor near me" in the USA on google. A google trends search reveals that searches for "chiropractors near me" have risen sharply since 2020, and show no sign of slowing.
As a chiropractor you can't afford to not be present on google's search engine results page.
About Our

Local SEO Services
Local SEO Packages

for chiropractors
NetLocal offers a range of Local SEO Packages to help your compete for searchers in your geographic.
With the purchase of a local SEO package you will receive a detailed, month to month plan to build your website into the google results algorithm.
Chiropractic SEO is similar to other local business SEO campaigns. The same techniques are applied to rank your practice in the map listings and organic results of searches for searches related to "chiropractor near me". NetLocal is a digital marketing agency with chiropractor SEO experts to create a cost effective SEO campaign that will generate an ongoing stream of new patients.
With the purchase of a local SEO package you will receive a detailed, month to month plan to build your website into the google results algorithm. Organic search engine optimization is by far the bast way to create a sustainable, growing practice.
Chiropractor SEO to generate

Leads & foot traffic
Being found high in the "natural" web results in a local search for the services and products that you offer lends credibility to your business.
Click through and conversion rates tend to be much higher for this type of search traffic. Our locally targeted search engine optimization is designed to reach customers searching for your services and products in your service area.
Schedule a meeting with the owner for an analysis of the search volume for your business and what it will realistically take to displace your competition in google organic search.
John DiBella
Owner/Founder
Zubair U din
Technical SEO Specialist
Jake Peters
Content Manager/Local SEO
CONTACT US TO START THE CONVERSATION
How Chiropractor SEO Can Improve

Your Website Traffic & Attract New Patients
One major way to optimize your chiropractic website is to make use of local SEO. As a brick and mortar local business, it's highly likely that lots of your potential patients are in the surrounding area, rather than further afield.
Instead of using generic keywords that could apply to anyone right across the country when optimizing your chiropractor SEO, ensure that you use local keywords instead.Think of it this way: your potential patients need a chiropractor. They'll be considering both quality and convenience when scrolling through search results and their search terms will likely look like 'local chiropractor New York' or 'best chiropractor in Boston'. Therefore, your chiropractic website should make use of local keywords like your location (New York, Boston, etc.) in conjunction with the service you provide (chiropractor) on web pages and in meta descriptions and titles. This way, you can attract new patients in your local area who require
Chiropractic SEO FAQ

- Common Questions About Chiropractor SEO
There's no need to see digital marketing as an intimidating aspect of owning a small business such as a local chiropractic practice. Some local business owners may steer away from even attempting digital marketing campaigns due to fear or lack of knowledge, but online marketing could drive new traffic to your chiropractic website and new patients to your practice.
To avoid this fear, which is derived largely from the unknown and new world of online marketing, we'll now take some time to answer common chiropractor SEO questions.
SEO vs. Advertising

- What's The Difference & How Do They Help Chiropractic SEO Services?
You may be wondering whether there's a difference between local SEO and online marketing or online advertising. The answer is yes, but they do overlap. Local SEO isn't necessarily advertising – it should just be embedded in all of your content. If you decide to start using services such as Google Adwords to push your content in front of potential patients and help guide them towards your chiropractic website, then that's advertising – but the content should still be SEO optimized.
What Are My Options For Digital Marketing As A Chiropractor?
One of the main ways to utilize online marketing for your local business would be Google AdWords. It has an impressive track record, with businesses earning a predicted $2 for every $1 that they spend on AdWords. Once you set up your Google AdWords account, you can work towards creating advertisements and even scaling up your marketing strategy once your small business is ready for it.
Many local business owners like how transparent Google AdWords is with your chiropractic SEO return on investment statistics, or ROI. It uses a PPC or pay-per-click model, so you usually only pay for the results that you get (the clicks, which you can then track conversion rates of, i.e. how many clicks turn into new patients).
But what is the average cost for these clicks with chiropractic SEO? Luckily, Statista has published research on this very topic, revealing that, within the fitness and healthcare industry, the average cost of a click is $1.98. You can make Google AdWords work to your own personal online marketing budget, scaling up and down as you need to – but be aware that your website traffic is likely to shift when you change your budget.
Social Media Marketing For Chiropractors
Another form of online marketing for chiropractors is creating and maintaining a social media presence for your chiropractor's practice. Through your social media (potentially on platforms such as LinkedIn, Instagram, and Facebook), you can personalize your business's voice and curate a specific personality behind every post which is inviting and welcoming to new patients. You'll be able to cover local events, as we previously mentioned, and make use of your local SEO keyword strategy by including those keywords in captions and the text content of your posts.
chiropractic SEO Packages
Want a no Obligation SEO Review of Your Website?
Where Do I Start With A Chiropractic SEO Marketing Strategy?

- Search Engine Optimization For Chiropractors
If all of this information has felt a little overwhelming, then don't worry. Even the basics of SEO and local SEO can be a lot to take in. However, if you'd like a stress-free digital marketing experience where you're appealing to local potential patients and generating organic search results, then consider contacting the SEO company NetLocal today.
Our SEO services are perfect for chiropractors and we can guide you through everything we've mentioned today, as well as link building, backlinks, how to use Google Analytics, and much, much more. Consider a NetLocal Local SEO audit today to greatly improve your website page SEO and drive more local traffic towards your local business.